Wine tasting is great fun…but planning it can be most challenging. You have to be very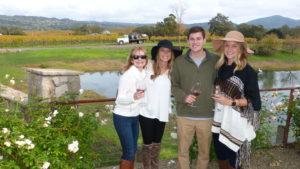 organized, well connected and above all, very flexible. You also have to be nimble to accommodate changes in plans that most regularly occur. We'll always do our best to plan the ideal experience, but we also know enough of what goes on during the day to have plans B, C, and D…we've got you covered.
"Amazing experiences all around…well worth the added value, expertise and detailed planning services provided. We would never been able to navigate or find on our own the special places and people we met along the way. THANKS for making our trip so memorable." – Ruth V., Denver, CO
All of our wine experiences are private or small group parties in newer model Premium SUV vehicles quoted individually per group depending on various factors such as – number of persons, types of wineries to visit, pick-up or drop location, dining options, time(s) of day and season visiting (we do not combine individual persons or mix groups). In a short conversation with us we'll see what works best for your specific criteria customized for your group. Private tours are quoted as hourly rates for direct FWT driving services and do not include tasting fees which vary widely. Our pricing is competitive (less than a limo or town car), but you'll have oodles more fun and learn lots more with us with several added value benefits. Prices quoted are based on a standard tour day with the average tour window from 10a – 6p for 4-5 wineries.
(All tours are a 5-hr. minimum M-TH and 6-hrs. Fri. – Sun.)
Note: Please be advised that we are currently booking as much as one month (or more) in advance…secure your dates early for best availability.
Rate Information (valid through January 31, 2020)
Private Guided Hourly Rates*

(up to 6 persons per SUV & private parties up to 10 in two cars)
Per private SUV vehicle/group
(5-hour min.):
2-5 persons – $75-85/hr. 
6 persons – $95/hr.
*Based on availability and quotes may be seasonal. Hourly quoted rates do not include private guide tips/gratuities. For multi-day tours and groups of (6) or more, there is 20% full-service/gratuity group charge added. Note: Due to language and/or customs barriers, there is an 18% service charge to our International Guests outside North America. Winery tasting fees are separate and vary per winery (avg. $25-$50/pp). Lunch is optional/extra and usually scheduled after second winery visit mid-day. For local pick ups within 20 miles of Napa there is a standard $25 daily fuel charge. Pick ups outside of Napa/Sonoma greater than 20 miles may have additional transfer/fuel fees. Most private tours are 6-7 hours for 4-5 wineries.
Call us at 720.788.9719 to see what we can do for your
trip to Napa or Sonoma. (Send a booking request HERE)
Types of Wine Experiences:
"We've never been here before…what should we expect?"
So it's your first time to wine country? No problem, we'll be gentle combining some traditional with the new while showing you a good bit of the valley landscape.
There are so many nuances to wine tasting for newcomers, you'll appreciate our insight based on your particular preferences. We spend some quality time with you to make sure we get you to the right spots to not overwhelm you first time out. Plus, we'll give you the inside scoop on cool ways save time and money while navigating on your own during your entire stay…just like that, wah-la!.

"There's only two of us and we're on a tight budget…can we still do a private tour?"
Absolutely…we can work with most any reasonable budget. We understand not everyone can afford a full day doing a private tour, but still want the personal touch and flexibility it offers. We have several options for those a little more budget oriented and/or just do not want to do a full day of private touring. Some of the ways we help you save money is to organize the day a closer together logistically, reduce the total hours, suggest places to share tastings, or assist on some of the more value oriented tastings without sacrificing the quality of your day. We also offer up some other local knowledge tidbits that will help you save money during your entire stay. You can also do our flat rate late-start 1/2 day tour from 12p-5p.
"We've been here before and it'd be nice to do something different."
Ok, you've been here once or twice, you kinda' know the ropes, but you want some great new suggestions or something a bit off the beaten track. Our 'road less traveled' expertise will put in front of some terrific new wines and often times the owners or winemakers themselves. A very personalized experience for those that appreciate the newer types of efforts being conducted here in the valley.
"Been here several times, done it all, like you to show me something new and different…we usually want the VIP treatment."
Ahh…a challenge…right up our alley. This is where it gets really fun because we get to pull out all the stops and dig deep in to our bag of tricks. Tasting fees may bump up a bit at this level, but worth the extra. We'll put our money on the local knowledge guys here…we keep good secrets and have plenty of aces up our sleeve to get you in front of some special places that you would never know about on your own. Also, ask about our VIP specialty private tours and single appellation AVA experiences.

"We're staying in the city (SF)…can you pick us up and take us home?"
It's a long day coming from the city and having to think about spending the whole time out here in wine country then driving back home. And, you shouldn't have to. We'll make this as trouble free as possible and show you a great time without the hassles. However, there are extra time/fees involved and plan on 1 – 1.5  hours each direction additional drive time. (add $150 each way for tolls, gas/trans fee & SF pickup/drop off charges) Also, a great (less expensive) alternative is to take the ferry from SF city to Vallejo just south of Napa (M-F only and $25 each way extra fees).
See ferry schedule here.
"We've got our own plan…just go."
Late Half-day (12p – 6p, 5 hour min.) – Based on availability (quote week of)
Full-day (6 hour min.) – Based on availability (quote week of)
Nightly Wine & Dine – Quote based on location/time, lower 'taxi' wait rates
• Your wine experience starts as soon as we arrive to pick you up at your scheduled time and your quote is based hourly (in 15-min. increments) until time of drop-off. A standard flat fuel fee of $25 is added to all local tours. Additional fuel or transfer fees may apply to tours 20 miles outside of Napa/Sonoma. A $100 deposit (per touring day or vehicle) is required to secure your date(s) and is 100% refundable within 30-days of your booking. Cancellations within 15-30 days of booking surrender 50% of deposit but can be applied to any future booking. There are no deposit refunds for cancellations less than 15 days prior your booking. Cancellations less than 7 days will be billed the full minimum 5 hours tour, but can be applied to a later date or another tour and is transferable.