Your trip to wine country is exciting and wine tasting is great fun…but planning it can be most challenging, especially from afar not having the local knowledge or insights. You have to be very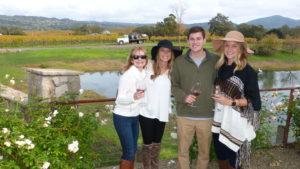 organized, well connected and above all, very well informed. You also have to be nimble to accommodate changes in plans that most regularly occur. We help plan your entire trip so you are not left guessing what experiences are best for you. We take a very diligent approach through extensive discovery and conversations about what you want to do that is specific to your group or occasion.
"Amazing experiences all around…well worth the added value, expertise and detailed planning services provided. We would never been able to navigate or find on our own the special places and people we met along the way. THANKS for making our trip so memorable."
                                                                                           – Ruth V., Denver, CO
We take the guesswork out of planning your trip and are willing to review your plan, regardless of how small or grand. Once we review all of your preferences and details of the trip, we will come back to you with our recommendations and next steps to put the plan in to action. And, if you do not have a plan and in the beginning stages of your trip, we will get you started on the right direction to make sure you making the most of your time in the early stages of coming out to wine country.
Private Planning Rates Information
Basic Plan Review – $75 (up to 30 mins by phone)
– Discussion review on your current plan and suggestions on changes
– Fully updated recommended restaurant list by dining genre

Advanced Plan Review – $150 (up to 1 hr.)
– Discussion review on your current plan and suggestions on changes
– Review full printed itinerary plan, reservations and all activities
– Email summary of discussions and noted recommendations
Premium Plan Review & Action Plan – $250
– Basic and Advanced plan reviews (included)
– Assist with reservations and make local contact recommendations
– Create written action plan with timeline and follow-up full itinerary
Platinum 'Easy Button' – $500 (two fully planned days*)
– All the above included
– Make all restaurant and winery reservations
– Arrange transportation from airport to hotel
– Acting personal liaison availability for your entire trip
* Additional days at $150/day planned
We guarantee to save you at least the cost of the Advanced Plan Rate ($150) and 100% satisfaction guarantee for all of our services.
Call us at 720.788.9719 to see what we can do for your
trip to Napa or Sonoma. (Send a planning request HERE)